The Gingold Theatrical Group, under the leadership of David Staller, brought James Did It! on board to update their site, eliminate Flash animations and make it easier for them to update.
The solution was to focus the valuable homepage real estate on what GTG does. While it honors the legacy of George Bernard Shaw, the company is about so much more.
Tell The Story
Theater people are storytellers, but what comes naturally onstage can be elusive for a website. By incorporating an easily-updated jQuery slider and several "cards" on the homepage, the story of what GTG begins, and users can easily "create their own adventure."
Compliance & Mobile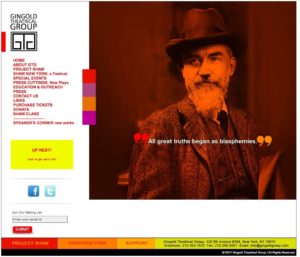 As with most older websites, the old site (at left) was also not responsive. So if someone viewed the site on an iOS device, all they saw was the navigation bar on the left. The current design not only puts the most important information up front, the design changes based on the user's screen size.