When Michael Beltrán, an actor-turned-executive-turned-coach, came to me, he had already named his business AtoB Coaching. So there were obvious travel/map/route metaphors to mine. Certainly makes my life easier!
I like sometimes sharing logo evolutions (here's another one). I like doing quick first thoughts sometimes because it gives the client "big bucket" ideas without spending a lot of time going down a road that the client doesn't like.
You can see that I often include taglines as part of the design. It's just an organic part of my brainstorming process. It also helps me (and the client) to begin refining the story in just a few words. Even if none of them is used (as in this case), it helps.
Each of these logos is black and white because color can be distracting. What matters at that stage is whether the idea works.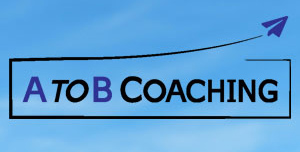 The Site
The site needed to fly, and we had fun coming up with different airplane puns. You have to be careful with those kinds of things, but I think we found a nice balance of "lighthearted" and "professional."
It is clear that Michael takes his work seriously but that you will also enjoy your time with him.